URGENT NOTIFICATION
The Next GM Meeting will be held in person at the Union Hall on Thursday, June 3, 2021 at 5:00 pm Sharp. A face mask or covering is mandatory to enter the building. All CDC Guidelines will be following accordingly.
Dear Brothers And Sisters,
Please be advised the union office will remain open for 5 days a week. All Visits to the office will require an appointment.
To All Members:
As you take precautions to protect yourself and your family members, the Local Union has prepared a plan to protect each of our employees at the office.
Due to the most recent Executive Order mandated by the NYS Governor's office the SMART Local Union 137 office will be closed until further notice. This is in effort to be proactive in protecting everyone's health. If you receive the automated answering system please follow the new messaging carefully as the instructions have been updated. You will now have the option of leaving a voicemail message or emailing office staff. This will ensure a prompt response to any of your concerns or needs.
Please be assured that Local Union 137 remains committed to the highest level of member and client servivces and we will continue to operate as usual.
Below are numerous documents that provide much of the needed information that pertains to your benefits. You can also visit the NYS Department of Labor website. Please email your union representative if you have any questions or concerns.
IMPORTANT BENEFITS INFORMATION
SMART Local Union 137 is providing all pertinent information regarding the Care Act, Unemployment Benefits, Family Leave Act, and important FAQ's via the documents below. Please take the time to carefully read the information as it may pertain to you and the benefits you are entilted to. If you have any further questions or are unclear on any issue email your union representative.
NJ COVID 19 SCENARIOS AND BENEFITS AVAILABLE
Download UPDATED NJ DOL COVID-19 SCENARIOS.pdf
NJ WORKERS RELIEF
Download NJ Worker Relief1.pdf
UNEMPLOYMENT INSURANCE BENEFITS: UPDATED FAQs
https://www.labor.ny.gov/ui/pdfs/ui-covid-faq.pdf
UNEMPLOYMENT ASSISTANCE FLOW CHART
https://labor.ny.gov/ui/pdfs/cares-act-need-to-know-flowchart.pdf
UNEMPLOYMENT ASSISTANCE (PUA)
https://labor.ny.gov/ui/pdfs/pandemic-unemployment-assistance.pdf
COVID GOVERNMENT INFORMATION LINKS
Download COVID Government Information Links.pdf
WHAT YOU NEED TO KNOW ABOUT THE CARE ACT
https://labor.ny.gov/ui/pdfs/cares-act-need-to-know.pdf
https://www.labor.ny.gov/pressreleases/2020/march-17-2020-1.shtm
UNEMPLOYMENT FAQS
https://coronavirus.health.ny.gov/system/files/documents/2020/03/dol_unemploymentinsurancefaq_032720.pdf
CONTRACTOR RESPONSIBILITIES
https://nabtu.org/wp-content/uploads/2020/03/ContractorSummary.pdf
SICK LEAVE LAW
https://paidfamilyleave.ny.gov/system/files/documents/2020/03/obtaining-order-of-quarantine.pdf
https://covid-19.theabdteam.com/blog/how-the-cares-act-affects-employee-benefits
COVID-19 RELIEF AVAILABLE TO WORKERS UNDER NEW YORK STATE LAW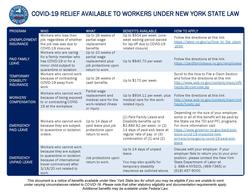 COVID-19 RELIEF AVAILABLE TO WORKERS UNDER FEDERAL LAW
ALERT: COVID-19 INFORMATION
For your convenience we have provided link that will serve as reliable resources on how to limit and handle exposure including unemployment information. Please click on the links below for further details.
https://coronavirus.health.ny.gov/home
https://labor.ny.gov/pressreleases/2020/march-17-2020-1.shtm
Yesterday, Governor Cuomo signed Executive Order 202.6 CONTINUING TEMPORARY SUSPENSION AND MODIFICATION OF LAWS RELATING TO THE DISASTER EMERGENCY –which requires Employers to reduce in-person workforce to 50% at any work location no later than March 20 at 8pm CONSTRUCTION is NOT SUBJECT to these restrictions. Read the entire Executive Order 202.6 here:
https://www.governor.ny.gov/news/no-2026-continuing-temporary-suspension-and-modification-laws-relating-disaster-emergency?fbclid=IwAR2U36ZMnkAJEkis5P2NqbNzKz-K_J81ygafzzYqdFclg9c7Dce8Vq_WfXI