The mission of the Sheet Metal Workers' International Association, Local Union No. 137 is to organize, educate, and represent all workers in our associated crafts.
The purpose of our organization is to represent all members in our fight to improve benefits, wages, and safe working conditions.
These aims are based on the foundation of values which include the affirmation of Human Dignity, respect and appreciation for diversity and the promotion of social justice for all workers.
HAZARD ALERT RF RADIATION
SUPPORT AMERICAN JOBS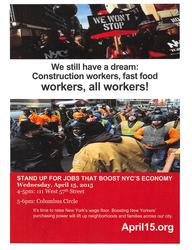 WORLD TRADE CENTER HEALTH PROGRAMS
Download WTC HEALTH PROGRAM INFORMATION.pdf
Download WTC HEALTH PROGRAM INFORMATION.pdf
Download WORLD TRADE CENTER FACT SHEET.pdf