CURRENT NEWS
Our Annual Labor Day Parade was a success. please click on the below link to watch video,
https://site-74766083.bcvp0rtal.com/
Dear Brother/Sister:
Please see the below listing of dates for upcoming 2022 General Membership Meetings:
Thursday, February 3, 2022
Thursday, April 7, 2022
Thursday, June 2, 2022 (Proposal Meeting)
Friday, July 29, 2022 (Special Ratification)
Thursday, September 1, 2022
Thursday, December 1, 2022 (Holiday Meeting)
All above meetings will be held promptly in person at 5:00 pm at
S.M.A.R.T. Local Union 137 Union Hall 50-02 5th Street Suite A, LIC NY 11101 718-937-4514
All meetings are subject to change and if necessary, can be held virtually via zoomAll Stewards, Instructors and Apprentices are required to attend all scheduled General Membership meetings.
NO SURPRISE ACT: YOUR RIGHTS AND PROTECTIONS AGAINST SURPRISE MEDICAL BILLS
Visit https://www.dol.gov/agencies/ebsa/laws-and-regulations/laws/no-surprise-surprise-act for more information about your rights under federal law.
Dear Brothers And Sisters,
Please be advised the union office is open Monday through Friday from 7:00am to 4:00pm. All visits to the office will require an appointment.
IMPORTANT BENEFITS INFORMATION
SMART Local Union 137 is providing all pertinent information regarding the Care Act, Unemployment Benefits, Family Leave Act, and important FAQ's via the documents below. Please take the time to carefully read the information as it may pertain to you and the benefits you are entilted to. If you have any further questions or are unclear on any issue email your union representative.
NJ COVID 19 SCENARIOS AND BENEFITS AVAILABLE
Download UPDATED NJ DOL COVID-19 SCENARIOS.pdf
NJ WORKERS RELIEF
Download NJ Worker Relief1.pdf
UNEMPLOYMENT INSURANCE BENEFITS: UPDATED FAQs
https://www.labor.ny.gov/ui/pdfs/ui-covid-faq.pdf
UNEMPLOYMENT ASSISTANCE FLOW CHART
https://labor.ny.gov/ui/pdfs/cares-act-need-to-know-flowchart.pdf
UNEMPLOYMENT ASSISTANCE (PUA)
https://labor.ny.gov/ui/pdfs/pandemic-unemployment-assistance.pdf
COVID GOVERNMENT INFORMATION LINKS
Download COVID Government Information Links.pdf
WHAT YOU NEED TO KNOW ABOUT THE CARE ACT
https://labor.ny.gov/ui/pdfs/cares-act-need-to-know.pdf
https://www.labor.ny.gov/pressreleases/2020/march-17-2020-1.shtm
UNEMPLOYMENT FAQS
https://coronavirus.health.ny.gov/system/files/documents/2020/03/dol_unemploymentinsurancefaq_032720.pdf
CONTRACTOR RESPONSIBILITIES
https://nabtu.org/wp-content/uploads/2020/03/ContractorSummary.pdf
SICK LEAVE LAW
https://paidfamilyleave.ny.gov/system/files/documents/2020/03/obtaining-order-of-quarantine.pdf
https://covid-19.theabdteam.com/blog/how-the-cares-act-affects-employee-benefits
COVID-19 RELIEF AVAILABLE TO WORKERS UNDER NEW YORK STATE LAW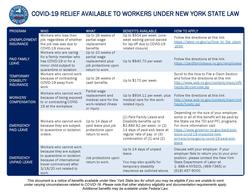 COVID-19 RELIEF AVAILABLE TO WORKERS UNDER FEDERAL LAW
ALERT: COVID-19 INFORMATION
For your convenience we have provided link that will serve as reliable resources on how to limit and handle exposure including unemployment information. Please click on the links below for further details.
https://coronavirus.health.ny.gov/home
https://labor.ny.gov/pressreleases/2020/march-17-2020-1.shtm
Yesterday, Governor Cuomo signed Executive Order 202.6 CONTINUING TEMPORARY SUSPENSION AND MODIFICATION OF LAWS RELATING TO THE DISASTER EMERGENCY –which requires Employers to reduce in-person workforce to 50% at any work location no later than March 20 at 8pm CONSTRUCTION is NOT SUBJECT to these restrictions. Read the entire Executive Order 202.6 here:
https://www.governor.ny.gov/news/no-2026-continuing-temporary-suspension-and-modification-laws-relating-disaster-emergency?fbclid=IwAR2U36ZMnkAJEkis5P2NqbNzKz-K_J81ygafzzYqdFclg9c7Dce8Vq_WfXI